Regularly Scheduled Maintenance That You Can Have Confidence In
The Bert Ogden Subaru Service Center is Proud to Service San Juan, South Texas and Rio Grande Valley Drivers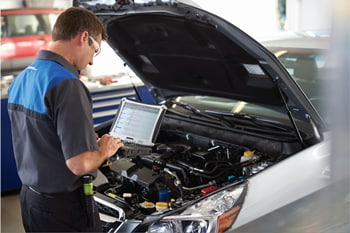 Service at Bert Ogden Subaru in Edinburg, TX
Welcome to the Bert Ogden Subaru service department. Please feel free to schedule your routine maintenance and repairs with our expert technicians if you are here in Edinburg or the surrounding South Texas area, including communities like McAllen, Rio Grande Valley, Harlingen, and San Juan.
What we offer
At Bert Ogden Subaru, you will find a range of services including:
·       Oil change and tire rotation
·       Wheel alignment
·       Muffler and exhaust repair
·       Brake maintenance and replacement
·       Battery maintenance and replacement
·       Air filter and windshield wiper blade replacement
·       Engine tune-up
·       Fluid top-off
In addition, no matter your scheduled service, our technicians will perform a thorough multipoint inspection to catch - and fix - any other issues.
Why service with us
Our service technicians have received the same level of training as other area mechanics; however, they have undergone additional training on Subaru models, meaning they are experts at working on Subaru systems and pinpointing potential problems with your Subaru. Our technicians also use genuine OEM parts during all Subaru maintenance. Because we are a Subaru-affiliated dealership, we will also notify you of any recalls on your Subaru model and can repair those issues at no cost to you. We also honor all factory warranties for Subaru cars and SUVs; other mechanics do not.
A note on COVID-19
Due to the continuing threat of the COVID-19 pandemic, things look a little different at Bert Ogden Subaru. For starters, we encourage you to take advantage of a contactless vehicle service option, including no-contact drop-off (using our key drop box). We also offer vehicle loaners and shuttles so you don't have to wait inside. If you do wait inside, please note that we are constantly sanitizing all common areas, and we are enforcing mask and social distancing guidelines as defined by the CDC. We will also sanitize your vehicle before and after maintenance.
Contact Bert Ogden Subaru in Edinburg, Texas, for all your maintenance needs.