Visit the Bert Ogden Subaru for Authentic Subaru Parts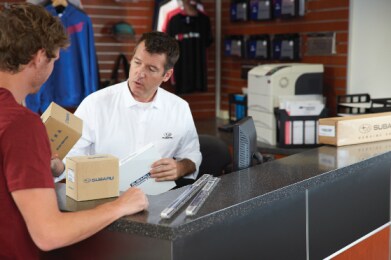 The Bert Ogden Subaru team understands what a hassle it can be to find authentic Subaru parts for your new or used Subaru. That's why, when you stop by the Bert Ogden Subaru Parts Center, you'll be met by a friendly team of Subaru aficionados that are well-versed in the parts that your specific vehicle requires to remain in exceptional condition.
If you're in need of quality parts for your Subaru, you can count on the Bert Ogden Subaru parts team to locate the very part that you need, when you need it. What's more, if our Parts Center doesn't have the particular part that you're in need of in stock, our team will happily order it for you. The Bert Ogden Subaru Parts Center team is here to serve all of your automotive needs and will do whatever it takes to do so successfully and efficiently.
If you're in need of genuine Subaru parts for your Subaru or would simply like to find out more about what the Bert Ogden Subaru Parts Center can do for you, we invite you to stop by today. The entire Bert Ogden Subaru team is proud to serve Edinburg, McAllen, San Juan, Harlingen and Rio Grande Valley area Subaru drivers and looks forward to welcoming you in to our Parts Center in Edinburg, TX soon.